Invisalign buttons and attachments may not be something you've thought about when it comes to an Invisalign treatment. In fact, you may have never even heard of Invisalign teeth attachments before.  
But now that we've mentioned Invisalign accessories, you may be wondering:
What are "buttons" for Invisalign

?

Is there a difference between Invisalign buttons and Invisalign attachments?

Why does Invisalign have buttons?

How are Invisalign attachments put

on teeth?
These are all great questions, and we'll be answering them for you in this article.
Depending on your alignment needs, your orthodontist can place different types of attachments and buttons on your teeth. These accessories can help fix specific problems that Invisalign alone can't solve.
If you're interested in learning more about Invisalign anchors, then you're in the right place.
Keep reading to learn all about Invisalign attachment types and where to go to get the best Invisalign treatment in Richmond, VA. 
What Are the Different Types of Invisalign Accessories?
When most people hear "Invisalign," they probably think about a clear, removable mouthguard-like piece of plastic (called a tray or aligner) that straightens teeth. But what they don't know is that there are certain alignment issues that an Invisalign tray itself can't fix.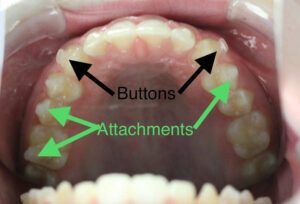 For more severely rotated or misaligned teeth, an orthodontist may need to use Invisalign accessories, like attachments or buttons.
The general public often uses the words "attachments" and "buttons" interchangeably. However, they're actually two different tools orthodontists can use during an Invisalign treatment.
Here's a rundown of Invisalign buttons and Invisalign teeth attachments to help you understand the difference.
Invisalign Teeth Attachments
Have you ever wondered, "Why does Invisalign have bumps?"
Invisalign attachments (also called Invisalign anchors) are a tooth-colored "bump" placed on the front of a tooth. The Invisalign tray will then slide over the top of the attachments and "snap" in place.
Orthodontists use Invisalign teeth attachments because they:
Focus an Invisalign's force in a more concentrated direction

Make alignment movements more predictable

Allow Invisalign to treat more advanced alignment issues 
Ultimately, Invisalign attachments allow an Invisalign treatment to achieve its intended results in slightly more complex cases.
How Are Invisalign Attachments Put On
Teeth?
Orthodontists make attachments out of composite dental bonding material. Many dentists use the same material when fixing cracked or broken teeth, so it's safe and strong.
To place Invisalign anchors on your teeth, your orthodontist will:
Make a template aligner to know where to put attachments

Clean and prep your teeth

Place the template aligner over your teeth

Fill in the gaps with a gel

Press the attachments into the gel

Use a special light to harden the attachments to the gel
Once treatment is complete, your orthodontist will simply polish the attachments off your teeth—there won't be any damage to your tooth or enamel.
Are There Any
Invisalign Attachment Problems
?
Though Invisalign teeth attachments are a valuable tool, they do bring some complications with them.
Increased difficulty putting in your tray and taking it out is the main issue you may face with Invisalign attachments. Attachments cause your tray to fit more tightly in your mouth, so it may take some extra time to get your tray in and out of your mouth.
Additionally, Invisalign accessories can make cleaning teeth more challenging. You can still take your trays out when brushing and flossing, but you'll have to make sure to clean around your attachments well.  
Now that you know more about Invisalign attachments let's look at Invisalign buttons more closely.
Invisalign Buttons
Attachments are used to push teeth more predictably into correct alignment. But what are buttons for Invisalign?
Like Invisalign attachments, Invisalign buttons are:
Tooth-colored and made of dental bonding material

Placed on your teeth to help achieve intended alignment results

Used to fix more complex alignment issues
However, unlike Invisalign teeth attachments, Invisalign buttons aren't covered up by a tray. Instead, aligners curve around the buttons placed on your teeth.
Why Does Invisalign Have Buttons
?
Orthodontists will sometimes use buttons when a patient's treatment requires rubber bands. 
Rubber bands help fix jaw alignment issues, like overbites and underbites. They attach to the upper and lower teeth to pull the jaw into the correct position. 
Buttons allow patients to get Invisalign who would otherwise need traditional braces. 
Similar to placing your tray with attachments, putting in rubber bands can take some time to get used to.
Is There
Invisalign Buttons Pain
?
Both attachments and buttons can cause some discomfort a few days after they're placed.
With attachments, the discomfort comes from a more tightly fitting tray. The pain will often subside after a few days once your teeth begin to shift and adjust to their new position.
Buttons can also cause some soreness or discomfort as your teeth and jaw are pulled into correct alignment. Over time, the pain should decrease and disappear altogether.
Overall, slight discomfort is a small price to pay for a brighter, straighter smile!
Expert Invisalign Treatment in Richmond, VA
Invisalign is a powerful alignment tool, but sometimes there are specific issues an Invisalign tray can't fix on its own. In these cases, an orthodontist may need to use different types of Invisalign attachments or buttons to straighten teeth.
Orthodontists place Invisalign teeth attachments to allow for greater force and predictability with Invisalign trays, and they use Invisalign buttons when a patient needs to wear rubber bands to fix a jaw issue.
Despite their differences, both Invisalign accessories allow an Invisalign treatment to more effectively solve a complex alignment problem that might otherwise require traditional braces.
At Bates Orthodontics, we're experts when it comes to Invisalign treatments. Our orthodontist is a Diamond Invisalign Provider, placing him in the top 1% of all Invisalign providers nationwide. So whether you have a slight overbite, small gaps in your teeth, or some other tooth or jaw issue, we're ready to provide you with professional advice and service.
Schedule your free consultation today to see how Invisalign can help you get the smile you've always wanted.